Multi Capital (MCG) closes a $39,100,000 pre-construction loan in Lower Manhattan.
New York NY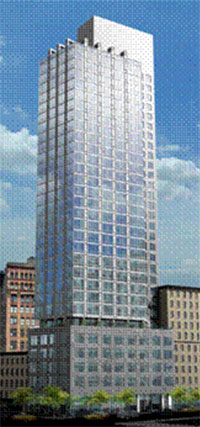 Multi Capital has arranged for a $39,100,000 loan for a hotel development located in the financial district of Manhattan.
The loan is a land and pre-construction loan for a 242 key hotel development that will include meeting spaces, a health club, a bar and lounge, and a restaurant on the 32nd floor.
Eli Verschleiser, a founding partner at MCG stated that in today's market it is not a secret that it is difficult to fund ground up construction loans, but in the past 30 days, MCG has closed two new construction loans for EB Developers. The other loan was in South Florida, a truly difficult market to get funding. Eli Verschleiser also stated that it is the unique relationships that MCG has built with the lenders that allow Multi Capital to achieve the difficult tasks in this lending environment. EB Developers is a publicly traded company with corporate offices located in Boca Raton, Florida. For over a decade EB Developers and Berdugo Homes have been setting the benchmark for the single-family, multi-family and high-rise residential markets. Thousands of people live in the finest quality of homes, which have been built by EB Developers. They have maintained strong professional and financial relationships that allow continued growth and expansion into new markets.
###
EB Developers (http://www.ebdevelopers.com) is a Real Estate Development company that is active, aggressive and well financed, with a highly qualified staff and strategic partners that consists of some of the most well known names in the industry. EB Developers has the ability to handle complex projects and to perform as a developer and builder. To date, EB has developed over $3 billion in past and present real estate projects in Florida.


About Multi Capital LLC
Multi Capital, Inc. (www.Multi-Capital.com) is a nationwide finance company specializing in the full spectrum of real estate financing. Multi Capital is known for its expertise in arranging Senior Debt, Mezzanine, and Equity for Development Deals. With its financing experts originating from the real estate development arena, Multi has the expertise needed to syndicate these transactions.
Multi Capital provides a service that is unmatched in efficiency, speed, and thoroughness. Multi currently has over $600,000,000 in development deals in the pipeline.