Multi Capital (MCG) Closes on the Eaton Center, a Class A Office Building in Cleveland Ohio
Cleveland, OH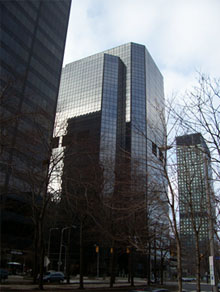 Multi Capital represented an International Investment Group in the purchase of Eaton Center, a class A office building located in the financial district of Cleveland, Ohio. The property was built in 1983 and is a Skidmore, Owings, and Merrill design. The property contains 615,000 square feet and serves as the world manufacturing of automobile, electric, and aerospace product.
Eaton Corporation (NYSE:ETN), a Fortune 500 company with 60,000 employees and subsidiaries around the world, occupies approximately 297,000 square feet at the property with a remaining lease term of approximately 6.9 years. The tenant has a credit rating of A and A2 by S&P and Moody's respectively, and represents approximately 56% of the property's base rental revenue.
The 28-story Property is situated on 1.28 acres with 509-space parking garage. It has the following amenities: café, conference facility, marble atrium lobby
Multi Capital, a real estate investment banking firm, arranged the financing with CIBC World Markets. The property was purchased for the amount of approximately $70,000,000.


About Multi Capital LLC
Multi Capital, Inc. (www.Multi-Capital.com) is a nationwide finance company specializing in the full spectrum of real estate financing. Multi Capital is known for its expertise in arranging Senior Debt, Mezzanine, and Equity for Development Deals. With its financing experts originating from the real estate development arena, Multi has the expertise needed to syndicate these transactions.
Multi Capital provides a service that is unmatched in efficiency, speed, and thoroughness. Multi currently has over $600,000,000 in development deals in the pipeline.