Multi Capital in the Equity arena for value added office
Norwalk, CT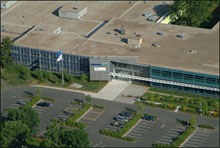 Multi Capital, a Real Estate Investment Banking Firm, recently arranged equity in the amount of $14,000,000 for the acquisition of Norden Park Plaza, in Norwalk CT. The 650,000+ GSF building is constructed of steel frame and masonry and is comprised of a single two-story office building, an office/research and development technology building. The property enjoys a campus like setting consisting of manicured lawns, mature trees and bushes, pathways and a patio. There is plentiful parking with 1,879 spaces (3.1 spaces per 1,000 square feet).
The total transaction in excess of $95,000,000 was structured in excess of 98% LTC for the borrower.
Abraham Zeigermann, at Multi Capital's New York office structured the transaction.
The property's location provides excellent access to the high concentration of retail and restaurants situated along Route 1 and it is within historic downtown South Norwalk (SoNo). The property is located adjacent to Interstate 95 between exits 16 and 17 and has an unparalleled 3,500 square feet of visibility from Interstate 95. Additionally, the property is just less than three miles from the interchange of Interstate 95 and Route 7, which provides direct access to the Merritt Parkway, linking the area's diverse regional labor market as well as the affluent residential communities in neighboring Darien, New Canaan, Wilton and Westport.
The property's institutional-quality rent roll consists of a leading designer, developer and manufacturer of advanced electronic systems for military use, an established school of career education specializing in associate and bachelor degree programs, a specialized world discovery travel company, a national food company, a phone company, and an established healthcare recruiting and staffing firm.
According to Zeigermann, "Multi was able to structure an extremely high leveraged transaction due to its outstanding relationship with the client. Norden Park Plaza is a rare and unique opportunity in that it assures a secure and stable credit-tenant cash flow with phenomenal and realistic income addition potential. These types of transactions really give us an opportunity to differentiate ourselves from other firms."


About Multi Capital LLC
Multi Capital, Inc. (www.Multi-Capital.com) is a nationwide finance company specializing in the full spectrum of real estate financing. Multi Capital is known for its expertise in arranging Senior Debt, Mezzanine, and Equity for Development Deals. With its financing experts originating from the real estate development arena, Multi has the expertise needed to syndicate these transactions.
Multi Capital provides a service that is unmatched in efficiency, speed, and thoroughness. Multi currently has over $600,000,000 in development deals in the pipeline.